Electronic Scales


Table Top

Jewellery

Bench


Platform


Others

Mechanical Scales




Jewellery Series Electronic Scale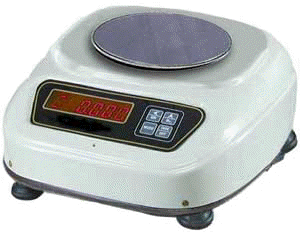 Capacity
300 gm.
500 gm.
Least Count
10 mg.
20 mg.

Pan Size

110 mm. Dia.
Features
Attractive aerodynamic compact model.
Advance technology PCB with faster response time for accurate weighing
Bright RED LED display better compared to cheap and dull LCD display
Tough Aluminum Casting base used, which is very strong, compared to imported plastic scales.
PCB is developed indigenously which makes it easy to repair and maintain.
Functions available : TARE, NETT/GROSS, M+, MR
Linearity Adjustment through Keyboard
Programmable Auto Zero Tracking [AZT]
Display intensity adjustable through keyboard.
"Auto Off" feature OR running display of "Today's Gold and Silver Rate"
Programmable extra "0" at end of display for confusion-free reading
Selectable "Last mode of operation" i.e. gram, tola, etc.
Single set-point alarm on set weight.
Due to Alexandra Scale's policy of continuous development, these specifications are subject to change without notice.